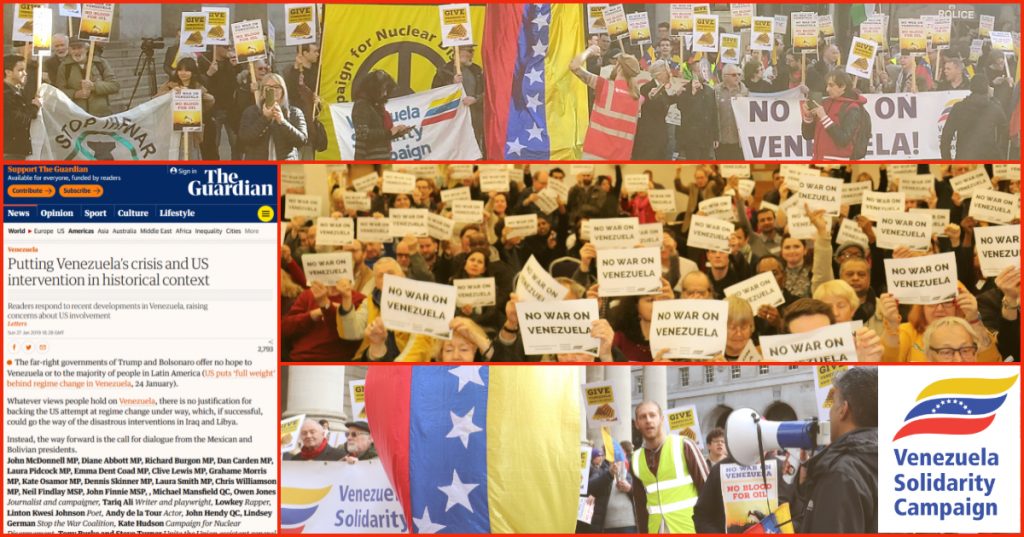 Make a contribution to the campaign
against US intervention in Venezuela
As you know, this is a very difficult time for Venezuela, with the Trump administration threatening military action and invoking the idea of a right-wing coup, such as Chile saw in 1973 and Bolivia in 2019. The UK is slavishly following this agenda, with an eye to a share in any post-coup spoils.
In response, we're campaigning harder than ever, but to do this we need your support. Our work has included:
Our Guardian letter signed by John McDonnell, Diane Abbott and others (and attacked by the Tories in Parliament)

Our picket of the Bank of England for refusing to hand back Venezuela's gold, which got widespread international media coverage

Our emergency rally, which was widely covered in Venezuela itself

Our successful recent #NoWaronVenezuela protest.

Over 30 events across the country, plus speaking at over 70 union, Labour and other meetings, including those run by local groups

Our new programme of on-line meetings, reaching different audiences

Our social media is reaching 10,000s of people every week and growing by the day
We now need your support to further step up campaigning. Please give £20 or what you can afford here, to enable more activity to be organised against Trump's war agenda. Your donations of any size make a real difference, so please chip in today online or send a cheque payable to Venezuela Solidarity Campaign at VSC, c/o 33-37 Moreland Street, London EC1V 8VB
Many thanks for your support,
Dr. Francisco Dominguez Venezuela Solidarity Campaign..