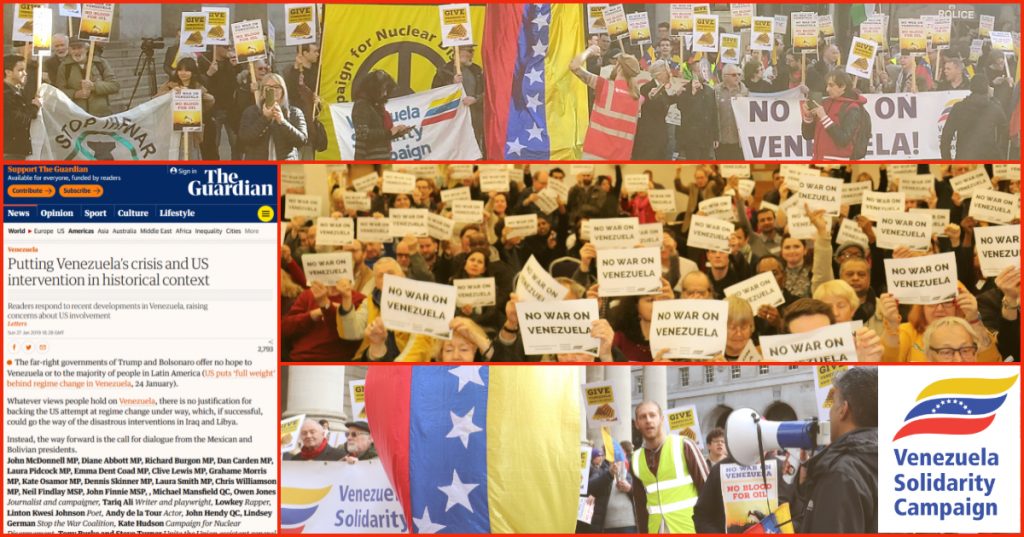 Make a contribution to the campaign
against US intervention in Venezuela
As you know, this is a very difficult time for Venezuela, with the Trump administration threatening military action and invoking the idea of a right-wing coup, which could lead to a new Pinochet. The UK is slavishly following this agenda.
In response, we're campaigning harder than ever, but to do this we need your support. Our work has included:
Our Guardian letter signed by John McDonnell, Diane Abbott and others (and attacked by the Tories in Parliament)

Our picket of the Bank of England, which got widespread international media coverage

Our emergency rally, which was widely covered in Venezuela itself

Over 30 events across the country, with more to come, plus speaking at over 70 union, Labour and other meetings

Our social media is reaching 10,000s of people every week and growing by the day

Our successful recent #NoWaronVenezuela protest.
We now need your support to further step up campaigning. Please chip in £20 or what you can afford here – we have set a £10,000 target for this appeal,
which we need to organise more activity against Trump's war agenda. We are already halfway there, and your donations make a real difference, so
please chip in today:
£20 pays for an office volunteer's travel & lunch expenses for a day

£30 pays for 1000 VSC flyers

£50 pays for a night in a B&B or guest house for a stall volunteer at a union conference

£100 pays for a month's office network, e-mailing, telephone and website domain provisions

£250 pays for room hire for a public meeting or film showing.
If we get just 250 more donations of £20 we will reach our £10,000 target. Don't let Trump get away with his military threats and sanctions, please donate to our vital work today and help us loudly say No More Pinochets in Latin America !
Many thanks for your support,
Dr. Francisco Dominguez Venezuela Solidarity Campaign..